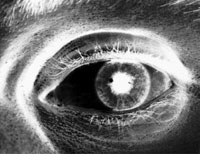 Videography
Single-camera documentation
Available to tape events in New York City. Very experienced in documenting theater, music and dance. Ask about other types of video documentation.
Recent tapings for the Swiss Consulate's ThinkSwiss events:
"ThinkSwiss: Genève Meets New York": Breaking Through Internet Censorship
"ThinkSwiss: Genève Meets New York": Panel Discussion at the American Red Cross

One of the cameramen for Come Unto Me: The Faces of Tyree Guyton
Audio recording
Mobile 8-track 24 bit digital recording. Can record audio only, or provide simultaneous 8-track digital recording and independent stereo camera mix.
Recent recording projects:
Ben Miller's Sensorium Saxophone Orchestra
Sound recordist for documentary Doctors of the Dark Side
Video editing
Editing experience since 1985 includes music videos, documentaries, event documents and more. Experienced with Final Cut Studio. Audio sweetening, color correction.
Shot interviews and edited this Kickstarter video for artist Judi Harvest.
DVD mastering
Experienced with DVD Studio Pro. Graphic design services for label and box design.
Video art services for artists
It's your art work; Buck Art is just there to create the video you need. Understanding aesthetic considerations helps me make your video art appropriate for the context of the art world. Also experienced in video art installation setup.
Equipment
Camera
Panasonic AG-HMC150 (true HD to 1080/60i)
Sony Nex5n (true HD to 1080/60p, 16 megapixel stills)
Audio
Mac Powerbook with Logic Pro 9 music software for recording multitrack digital audio
Zoom H4N handheld digital recorder with stereo pair and XLR inputs for 4 channel recording
Echo AudioFire8 Firewire Audio Interface in rack with Mackie mixer, dbx 1066 compressor/limiter/gate
FMR RNP mic preamp, FMR RNC compressor
Neumann KM 184 small condenser matched pair
Sony ECM-77b lavalier pair
Sennheiser EW 100 G3 wireless lavalier/receiver
Audio Technica AT4073a shotgun
Crown PCC-160 pair (especially useful for unobtrusive micing of theater)
Large condenser mics: Studio Projects C1, CAD M9 Tube Microphone, CAD M179 Variable-Pattern
Shure SM7b voiceover mic
AKG D 230 omni interview mic
Shure SM58, SM58S, SM57
Audix i5 dynamic mic
Software
Final Cut Pro Studio
Logic Studio
Adobe Creative Suite
Reaper (DAW)